Lennart van Haandel wins DCS thesis award 2017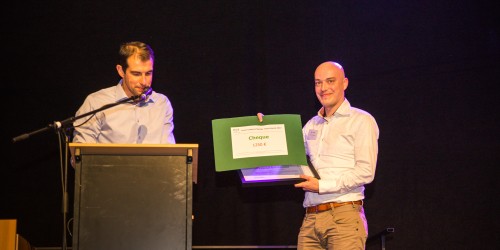 Chairman of the jury Jaap Bergwerff (Albemarle) and Lennart van Haandel
donderdag 09 maart 2017
At the last Netherlands' Catalysis and Chemistry Conference (NCCC XVIII) Lennart van Haandel was awarded the DCS Thesis Award 2017.
Lennart received the award for his thesis entitled Alumina Supported MoS2-based Hydrodesulfurization Catalysts, Structure and Performance in Relation to Catalyst Preparation and Activation. The thesis deals with the effect of preparation and activation on the structure and performance of MoS2 based hydroprocessing catalysts. In a field that is well-established and has received the attention of many researchers throughout the years, the author has managed to provide truly new insights and challenge the existing theories regarding the structure of the active phase and its genesis.
These insights were obtained using state-of-the-art techniques to characterize these notoriously obscure systems under relevant conditions.
Like the research itself, the lay-out of the thesis has clearly been made with great attention to detail resulting in a visually appealing booklet.
Besides the outstanding quality of the research, the jury was particularly impressed with the mastery of the many different aspects of catalysis that Lennart displays in his thesis. Above all, it was this feature that convinced the jury to declare this thesis as the winner of the 2017 DCS thesis award.
Read the complete laudatio here.